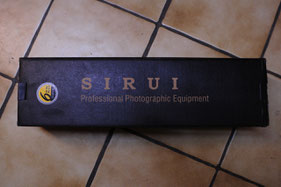 Today i got a package from Sirui -  at this point, thanks to Mr. von Essen for the support and the chance to get my hands on one of the all new W2204 Carbon Tripod which is water and dustproof.

Per Post kam heute ein schönes Paket von Sirui an - vielen Dank an Herrn von Essen für die Unterstützung und die Möglichkeit das brandneue Carbonstativ W2204 (Wasser und Staubdicht) zur Verfügung gestellt zu bekommen.

The W2204 comes with a well designed black travel bag with a detachable shoulderstrap which also can be attached directly on the tripod. Max height of 1782 mm, and package measure of 560 mm and of course its pretty light with just about 1,76 kg - perfect for travelling.
All along comes some accessory, like Spikes which can replace the rubber feet - affording the tripod stability on a variety of surfaces, Lightweight 10 layer 100% Carbon Fiber for added strength, increased load capacity and vibration reduction, Split center column that makes changing from standard center column to short center column fast and easy, one Leg convertable into a waterproof monopod. Center column can be attached for increased height, extra head support plate with a tripod head screw 1/4" - 3/8",
Monopod Wrist Strap.
And the most important features on this tripod - it is water and dustproof.
Das W2204 kommt mit einer schönen, schwarzen Tasche deren Gurt auch direkt an das Stativ angebracht werden kann. Max. ausziehbar auf 1782 mm bei einem Packmass von grade einmal 560mm und einem Gewicht von nur 1,76 Kg machen es zum perfekten Reisebegleiter.
Mit dabei im Packet, Zubehör wie zum Beispiel Gummifüße die, je nach Untergrundbeschaffenheit gegen die EdelstahlSpikes ausgetauscht werden können, eine teilbare Mittelsäule mit der man das Stativ schnell und unkompliziert für bodennahen Einsatz umrüsten kann, ein als Einbeinstativ abschraubbares Bein und dafür eine extra Kopfplatte mit einer 1/4" - 3/8" Kopfschraube und eine Handschlaufe.

Das wichtigste Feature allerdings ist, dass das Stativ (auch als Einbein) Wasser und Staubgeschützt ist.
---
Its very similar in handling like the M3204 i already have in use. Well i'll take this one out in the field (and water) during my holiday and write a little review, when i'm back.
If you have already any Questions leave a note in the comments.

Es ist vom Handling her dem M3204, welches ich bereits in Gebrauch habe, sehr ähnlich. Ich werde das W2204 nun mit in den Urlaub nehmen und in Feld und Wasser ausgiebig testen. Wieder zurück wird es ein kleines Review geben.
Wenn es vorab schon Fragen gibt, einfach als Kommentar schreiben.