Artikel mit dem Tag "Lichtkunst"
---
23. März 2015
Well, i actually haven't figured out how to place a PDF file on my page - so i decided to place it here as a downoad. Hope you don't mind. Ok, nach einigen Versuchen habe ich noch nicht wirklich herausgefunden wie ich hier eine PDF Datei unterbekomme die sich durchblättern lässt - daher gibt es den Artikel als Download.
01. Dezember 2014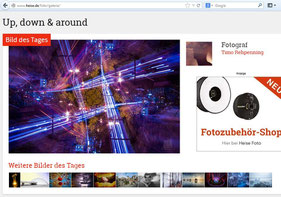 Always nice to get these, specially with a picture which i didn't expect that it would be choosen. Immer wieder schön so etwas zu bekommen, besonders wenn ein Bild ausgewählt wird, von dem man es selber nicht erwarten würde.